NTI Recorded Session NTI21283
Vital Lessons: A Case-Based Approach to Abnormal Vital Signs
Author(s): Vennero Megan
Activity Message
Get ce message.
Contact Hours 0.77
CERP A 0.77
Expires Dec 31, 2024
Topics: Hemodynamics, Monitoring
Population: Adult
Role: Staff
Add to Collection
Added to Collection
Activity Summary
Required reading for all learners: Implicit Bias impacts patient outcomes
Describe an algorithmic approach to assessing abnormal vital signs.
Articulate a focused differential based on specific vital signs.
Apply knowledge gained in this presentation to interactive clinical case studies.
Continuing Education Disclosure Statement
Learners must attend/view/read the entire activity and complete the associated evaluation to be awarded the contact hours or CERP. No partial credit will be awarded.
This activity has been reviewed by the Nurse Planner. It has been determined that the material presented here shows no bias. No conflicts of interest have been identified for any individual with the ability to influence the content of this activity. Accreditation refers to recognition of continuing education only and does not imply AACN or ANCC approval or endorsement of any commercial products discussed or displayed in conjunction with this educational activity.
The American Association of Critical-Care Nurses (AACN) is accredited as a provider of nursing continuing professional development by the American Nurses Credentialing Center's (ANCC's) Commission on Accreditation, ANCC Provider Number 0012. AACN has been approved as a provider of continuing education in nursing by the California State Board of Nursing (CBRN), California Provider number CEP 1036. This activity is approved for 0.00 contact hours.
AACN programming meets the standards for most states that require mandatory continuing education contact hours for license and/or certification renewal. AACN recommends consulting with your state board of nursing or credentialing organization before submitting CE to fulfill continuing education requirements.
Continuing Education Activities are nonrefundable.
Click through the PLOS taxonomy to find articles in your field.
For more information about PLOS Subject Areas, click here .
Loading metrics
Open Access
Peer-reviewed
Research Article
The value of vital sign trends in predicting and monitoring clinical deterioration: A systematic review
Contributed equally to this work with: Idar Johan Brekke, Lars Håland Puntervoll
Roles Conceptualization, Data curation, Investigation, Methodology, Writing – original draft, Writing – review & editing
* E-mail: [email protected]
Affiliation Department of Clinical Research, University of Southern Denmark, Odense, Denmark
Roles Conceptualization, Methodology, Supervision, Writing – review & editing
Affiliations Department of Clinical Research, University of Southern Denmark, Odense, Denmark, Department of Emergency Medicine, Odense University Hospital, Odense, Denmark
Affiliations Department of Emergency Medicine, Hospital of South West Jutland, Esbjerg, Denmark, Department of Regional Health Research, University of Southern Denmark, Odense, Denmark
Affiliations Department of Emergency Medicine, Odense University Hospital, Odense, Denmark, Department of Emergency Medicine, Hospital of South West Jutland, Esbjerg, Denmark, Department of Regional Health Research, University of Southern Denmark, Odense, Denmark
Idar Johan Brekke,
Lars Håland Puntervoll,
Peter Bank Pedersen,
John Kellett,
Mikkel Brabrand
Published: January 15, 2019
https://doi.org/10.1371/journal.pone.0210875
Reader Comments
Vital signs, i.e. respiratory rate, oxygen saturation, pulse, blood pressure and temperature, are regarded as an essential part of monitoring hospitalized patients. Changes in vital signs prior to clinical deterioration are well documented and early detection of preventable outcomes is key to timely intervention. Despite their role in clinical practice, how to best monitor and interpret them is still unclear.
To evaluate the ability of vital sign trends to predict clinical deterioration in patients hospitalized with acute illness.
Data Sources
PubMed, Embase, Cochrane Library and CINAHL were searched in December 2017.
Study Selection
Studies examining intermittently monitored vital sign trends in acutely ill adult patients on hospital wards and in emergency departments. Outcomes representing clinical deterioration were of interest.
Data Extraction
Performed separately by two authors using a preformed extraction sheet.
Of 7,366 references screened, only two were eligible for inclusion. Both were retrospective cohort studies without controls. One examined the accuracy of different vital sign trend models using discrete-time survival analysis in 269,999 admissions. One included 44,531 medical admissions examining trend in Vitalpac Early Warning Score weighted vital signs. They stated that vital sign trends increased detection of clinical deterioration. Critical appraisal was performed using evaluation tools. The studies had moderate risk of bias, and a low certainty of evidence. Additionally, four studies examining trends in early warning scores, otherwise eligible for inclusion, were evaluated.
Conclusions
This review illustrates a lack of research in intermittently monitored vital sign trends. The included studies, although heterogeneous and imprecise, indicates an added value of trend analysis. This highlights the need for well-controlled trials to thoroughly assess the research question.
Citation: Brekke IJ, Puntervoll LH, Pedersen PB, Kellett J, Brabrand M (2019) The value of vital sign trends in predicting and monitoring clinical deterioration: A systematic review. PLoS ONE 14(1): e0210875. https://doi.org/10.1371/journal.pone.0210875
Editor: Shane Patman, University of Notre Dame Australia, AUSTRALIA
Received: July 24, 2018; Accepted: January 3, 2019; Published: January 15, 2019
Copyright: © 2019 Brekke et al. This is an open access article distributed under the terms of the Creative Commons Attribution License , which permits unrestricted use, distribution, and reproduction in any medium, provided the original author and source are credited.
Data Availability: Protocol for this systematic review is registered in PROSPERO: CRD42017080303 Available from: http://www.crd.york.ac.uk/PROSPERO/display_record.php?ID=CRD42017080303 . All other relevant data are within the paper and its Supporting Information files.
Funding: The author received no specific funding for this work.
Competing interests: Dr. John Kellett is a major shareholder, director and chief medical officer of Tapa Healthcare DAC. The authors confirm that this does not alter their adherence to PLOS ONE policies on sharing data and materials.
Introduction
Vital signs, including respiratory rate, oxygen saturation, blood pressure, pulse and temperature, are the simplest, cheapest and probably most important information gathered on hospitalized patients [ 1 ]. However, despite being introduced into clinical practice more than a century ago, surprisingly few attempts have been made to quantify their clinical performance [ 2 ]. In the last few decades, vital signs have become an area of active research [ 1 ] and numerous studies have reported that changes in vital signs occur several hours prior to a serious adverse event [ 3 – 7 ].
Today, vital signs play an important role in emergency departments (ED) and on the wards, to determine patients at risk of deterioration [ 6 – 11 ]. Even though it is accurately predicted by vital sign changes, clinical deterioration often goes unnoticed, or is not detected until it is too late to treat [ 12 – 15 ]. This is mainly caused by inadequate recording of vital signs or as a result of an inappropriate response to abnormal values [ 1 , 14 – 16 ]. Among nurses and doctors there is insufficient knowledge and appreciation of vital sign changes and their implications for patient care [ 17 – 20 ]. The importance of monitoring vital signs in clinical practice is indisputable, but how to best monitor and interpret them and how frequently they should be measured is still unclear [ 21 , 22 ].
This review searched the literature for studies that explicitly tried to determine and quantify the increase or decrease in risk associated with changes of intermittently measured vital signs. We, therefore, confined our search only to those papers that measured vital signs intermittently, and not to those that used continuous monitoring and novel wearable technology
The aim of this systematic review was to evaluate the ability of intermittent vital sign trends to predict clinical deterioration in acutely ill patients in hospital.
Protocol and registration
The protocol for this review was registered in PROSPERO: CRD42017080303. Both the protocol and the article are developed in accordance with the Preferred Reporting Items for Systematic Reviews and Meta-Analysis guidelines ( S1 Appendix ) [ 23 , 24 ].
Eligibility criteria
Inclusion criteria: all studies based on intermittent vital sign trends in acutely ill adult patients on hospital wards and in EDs, including all observational studies and controlled trials assessing prognosis. Trends were defined as the changes between two or more consecutive measurements of vital sign values, with a minimum of 3 hours and a maximum of 24 hours between measurements. Articles in English, Danish, Norwegian or Swedish were included.
Exclusion criteria: case series and case reports, studies on patients with specific conditions or with less than 100 participants, or patients directly admitted to ICU. All studies reporting trends in continuous monitoring were excluded.
Outcomes: in-hospital mortality or mortality up to 30 days after hospital discharge, transfer to ICU, cardiac arrest, calls to a rapid response system, or any other outcome reported that was associated with clinical deterioration.
Information sources
We searched PubMed, Embase, Cochrane Library and CINAHL on October 26th 2017. The databases were searched without time restrictions or filters for language and study design. The search was updated on December 28th 2017, adding the term "trajectory" to the original search ( S2 Appendix ). PROSPERO was searched for relevant ongoing or recently completed systematic reviews, last on December 18th. All studies assessed in full-text were screened for relevant citing articles using Scopus and Web of Science ( S3 Appendix ). Experts in the field were contacted to identify additional relevant studies.
The search strategy was developed through a series of preliminary searches using a broad range of relevant keywords and thesauri, including; vital sign, deterioration and trend ( S2 Appendix ). An information specialist from the Medical Research Library at University of Southern Denmark reviewed the search strategy before the final searches were conducted.
Study selection
Reference handling and duplicate screening was performed using EndNote and Covidence. After removal of duplicates, titles and abstracts were screened independently by two authors (LHP and IJB). Disagreements regarding inclusion were resolved through discussion. In case of continued disagreement, inclusion was decided by a third author.
Eligible studies were read in full length by LHP and IJB and separately assessed against inclusion and exclusion criteria decided by all authors ( S4 Appendix ). Disagreements were discussed with the other authors, and consensus decided inclusion.
Data collection process
Data from included studies were extracted separately by LHP and IJB using a preformed data extraction sheet. Collection included: study characteristics, settings, demographics, intervention details and outcomes.
Risk of bias in individual studies
Critical appraisal was performed in duplicates by the two reviewers. Neither of the authors were blinded. The Quality in Prognosis Studies (QUIPS) tool for prognostic studies [ 25 ] was used to evaluate the included studies. The risk of bias was rated within six domains: study participation, study attrition, prognostic factor measurement, outcome measurement, study confounding and statistical analysis and reporting, assessing the risk of bias as either high, moderate or low.
Risk of bias across studies
The certainty of evidence was evaluated inspired by the Grading of Recommendations Assessment (GRADE) [ 26 ]. GRADE is originally designed to evaluate the certainty of evidence in randomized controlled trials. The approach assesses the strength of the body of evidence within five domains: within-study risk of bias (QUIPS), directness, heterogeneity, precision of effect estimates and risk of publication bias. An overall judgement regarding the certainty of the evidence was awarded for each examined outcome, as high, moderate, low or very low. As our study was observational by nature and did not address effect, evidence was not upgraded based on standard criteria. LHP and IJB evaluated the studies independently. Results were compared and discussed with the other authors.
Study selection and characteristics
The final search yielded 7,366 studies after removal of duplicates. However, 7,340 were deemed irrelevant ( Fig 1 ). Twenty-six were read in full-text and another nine were added through other sources: seven through citation tracking [ 27 – 33 ] and two additional studies recommended by experts [ 34 , 35 ]. Of the thirty-five studies assessed, two were eligible for inclusion. Details of the study selection are presented in Fig 1 .
PPT PowerPoint slide
PNG larger image
TIFF original image
Abbreviation: EWS–early warning score.
https://doi.org/10.1371/journal.pone.0210875.g001
We excluded thirty-three studies assessed in full-text. Twenty-five, as they did not fulfil our eligibility criteria; fourteen did not examine trend, seven focused on trends in clinical scoring systems and three incorporated elements of vital sign trends in multi-parameter risk stratification models, but did not present sufficient data to enable analysis. Five studies examined trends in vital signs or EWS in patients with specific conditions and four studies were excluded due to wrong study design. Reasons for exclusion and details are given in S4 Appendix .
We found two cohort studies eligible for inclusion. One including 269,999 medical and surgical admissions in five hospitals in Illinois, by Churpek et al. [ 36 ] and one including 44,531 medical admissions to a Canadian regional hospital, by Kellett et al. [ 37 ]. Both were retrospective analyses of vital signs collected in electronic medical records that included: respiratory rate, heart rate, systolic and diastolic blood pressure, temperature and oxygen saturation.
Churpek et al. aimed to compare the accuracy of different methods of modelling vital sign trends for detecting clinical deterioration on the wards using discrete-time survival analysis. Six different trend models were tested against the predictive value of current vital signs alone ( Table 1 ). Transfers to intensive care unit (ICU), cardiac arrests and deaths on the ward were analysed as a composite outcome. Vital signs were averaged for each four-hour time block, and the variables at the beginning on each interval used to predict risk of deterioration during that time block.
https://doi.org/10.1371/journal.pone.0210875.t001
Kellett et al. aimed to assess whether changes in vital signs would enable detection of in-hospital mortality. They assigned a weighted Vitalpac Early Warning Score (ViEWS) to each vital sign and averaged the score for each twenty-four hour period of admission. Change in mean score between the first five and the last five days of admission were then compared for survivors and non-survivors. Further study characteristics are given in Table 1 .
Risk of bias within included studies
None of the studies accounted for loss to follow-up and no clear assessment of confounders were stated. Statistical analyses varied substantially and the overall risk of bias was rated as moderate for both studies, S5 Appendix .
As both studies are observational, the certainty of the evidence was regarded as low. With only one article per outcome, inconsistency was not evaluated. We found no serious indirectness in the studies and publication bias was not suspected. Therefore, Churpek et al. received an overall low rating, while Kellett et al. was downgraded to very low, due to serious imprecision. See S5 Appendix for full description.
Results of individual studies
Churpek et al. performed univariate analysis of the different trend models and the current value, followed by bivariate analysis combining the trend models with the current value. Through univariate analysis, they found respiratory rate to be the best predictor of deterioration when using the current value, AUC 0.70 (95% CI 0.70–0.70). Standard deviation of respiratory rate was found to be more accurate than the current value (AUC 0.71 (95% CI 0.71–0.71)). Bivariate analyses increased accuracy for all vital signs compared to the current value alone, but the optimal method varied for the different vital signs. The model including the current respiratory rate and the maximum rate prior to current was the most the accurate predictor (AUC 0.73). When averaging the change in accuracy for all vital signs, vital sign slope resulted in the greatest increase (AUC improvement 0.013), while the change from previous value resulted in an average decrease of model accuracy (AUC -0.002).
Analysing trajectories in ViEWS weighted vital signs for the first five and the last five days of admission, Kellett et al. found that the score for respiratory rate increased the most in non-survivors (0.92 (SD 1.22)–1.46 (SD 1.34)) and decreased the most in survivors (0.24 (SD 0.71)–0.10 (SD 0.49)). Combining respiratory rate with other vital signs was not more accurately associated with in-hospital mortality. Due to large standard deviations, none of the vital sign trends were statistically significant.
The heterogeneity between the two studies was high. Apart from methodology and outcomes, the cohorts differed in several ways: Churpek et al. looked at both medical and surgical ward patients, with an unspecified number of elective surgical patients. Average age was 60 years and in-hospital mortality was 1.0%. Kellett et al. looked at medical admissions, with an average age of 67.5 years and an in-hospital mortality of 4.6%, Table 1 .
The literature search also identified seven studies on trends in EWS. The results of four studies, otherwise eligible for inclusion, were evaluated and summarized in Table 2 . The remaining three studies were based on data from the same cohort as Kellett et al [ 37 ].
https://doi.org/10.1371/journal.pone.0210875.t002
This systematic review looked at trends in intermittently monitored vital signs and identified two studies eligible for inclusion. Both examined intermittent vital sign trends as an independent predictor of clinical deterioration. Although largely heterogeneous, with a low certainty of evidence, they suggested trends to be associated with deterioration.
Churpek et al. found respiratory rate to be the most accurate predictor, both for current value and when adding trend models. The most accurate model varied between the vital signs. Although trend statistically increased model accuracy for all vital signs, the improvements were considered minor. Kellett et al. suggested a correlation between increasing ViEWS weighted vital signs and in-hospital mortality. Similarly to Churpek et al., they found respiratory rate to be best associated with outcome, with the largest increase in score for non-survivors and decrease for survivors. However, due to large standard deviations, their findings were not statistically significant.
In essence, both studies suggest that more precise prognostic information can be obtained from changes in vital signs if they undergo manipulation. Kellett et al suggested that the values should be weighted, and Churpek et al found that the difference from the current and previous value was less valuable than the vital sign slope, vital sign variability, and the most deranged values since admission. Their findings also illustrates the lack of consensus in what constitutes trends, and how to best interpret them.
Considering vital signs central role in daily clinical practice, their results, although only suggestive, should be of interest to clinicians caring for patients on wards or in EDs. A lot of effort is going into developing continuous monitoring on the assumption that the trends it will reveal will be clinically valuable and superior to intermittent monitoring [ 41 ]. Although considering the technology promising, three recent systematic reviews did not find sufficient evidence in to support the implementation of routinely continuous monitoring of vital signs in general wards [ 42 – 44 ]. Results of this systematic review suggest that combining the widespread use of electronic healthcare systems to record intermittently monitored vital signs with trend analysis could improve the prediction of deterioration prior to a serious adverse event and help direct limited resources towards the patients at risk.
As illustrated by this review, there is an apparent lack of high quality evidence regarding trends in intermittently monitored vital signs. The studies included are retrospective analyses of pre-existing cohorts, without control groups, and with complete heterogeneity. Thus, they have a low (or very low) certainty of evidence. Interestingly, both studies found respiratory rate to be best associated with clinical course, a standpoint receiving a growing support [ 1 , 44 , 45 ]. Currently, there is no reliable and convenient way to evaluate respiratory rate, but recent technological advances will soon enable automated monitoring of respiratory rate [ 2 , 44 ], and can prove to be a major advance in monitoring. Ultimately, both trends in vital signs in general and respiratory rate in particular, should be subjected to evaluation through well-controlled prospective multicentre cohort studies.
Several studies examining trajectories of intermittently monitored vital signs were not eligible for inclusion ( S4 Appendix ). These consisted of; risk stratification models with elements of vital sign trends, trends in EWS and in patients with specific conditions, including; cardiac arrest [ 46 ], advanced stage of cancer [ 34 ], acute respiratory condition [ 47 ], repeated emergency team activations [ 48 ] and normotensive ED patients [ 31 ]. Although not subject for inclusion, they are mentioned to give an account of the total number of studies on vital sign trends identified by the review.
Likewise, studies on trends in EWS, otherwise meeting the inclusion criteria, are listed in Table 2 , in order to make the review more informative. They illustrate a potential correlation between trends and clinical deterioration. As observational studies with small sample sizes and low number of events, their findings should be interpreted with caution. They were all evaluated to have a moderate risk of bias and a very low certainty of evidence.
However, there are multiple limitations to such risk stratification models. In a recent article, Baker & Gerdin [ 49 ] discussed the clinical usefulness of the large number of prediction models developed for use in critical care. They emphasised the current focus on trying to optimise the precision of these models, rather than testing the performance of the models to real-world interventions and their impact on outcomes. Similarly, Pedersen et al. [ 10 ] highlighted the need to evaluate the endpoints currently used to validate these predictive models (e.g. ICU-transfer, cardiac arrest and in-hospital mortality). They argued for the importance of developing systems that specifically can identify patients who are salvageable, if provided with optimal treatment and care.
Disappointingly, only two studies were found eligible for inclusion in this review of intermittently monitored vital sign trends. Still, the fact that there is little or no high quality evidence supporting trends in vital signs and the myriads of scoring systems developed to the means of predicting clinical deterioration, should be an essential contribution to evidence based practice.
The search strategy was developed for a high sensitivity, with the aim of identifying all studies examining trend, without filtering for time or language. An information specialist reviewed the search strategy before the final searches were conducted. Only studies examining continuous monitoring were excluded on time criteria, in the abstract screening. Hence, changing the minimum time to 1 hour would not yield any further eligible studies. Reference tracking and outreach to relevant experts did not identify any other eligible studies that were not identified by the original search.
Limitations
This review only descriptively analysed the eligible studies identified and did not quantify data or perform a meta-analysis. Due to the wide applicability of the search terms "vital signs" and "trend", only a small number of the articles were deemed relevant and assessed in full text. To reflect the clinical ward setting, the protocol for the review narrowed the inclusion criteria to studies analysing trends with a minimum of 3 hours and a maximum of 24 hours between measurements [ 21 , 22 ]. The evidence supporting measurement frequency is limited at best, and as a result, no studies were excluded on this criterion alone during abstract screening. Apart from reference tracking and expert outreach, attempts to pursue grey literature were not made.
The two eligible studies identified suggest that trend analysis of intermittent vital signs would increase the accuracy for detection of clinical deterioration on general wards and in EDs. However, the external validity of these findings is challenging to test–and there is a need to shift the focus towards clinical feasibility. Furthermore, the results of this review show there is no consensus on how to best analyse trends. Given that trend-models are externally validated through well-controlled prospective multicentre cohort studies, authors of this review, consider them promising and welcome as a valuable addition to clinical decision support.
Supporting information
S1 appendix. prisma 2009 checklist..
https://doi.org/10.1371/journal.pone.0210875.s001
S2 Appendix. Search strategy.
https://doi.org/10.1371/journal.pone.0210875.s002
S3 Appendix. Citation tracking.
https://doi.org/10.1371/journal.pone.0210875.s003
S4 Appendix. Full-text screening.
https://doi.org/10.1371/journal.pone.0210875.s004
S5 Appendix. Risk of bias assessment.
https://doi.org/10.1371/journal.pone.0210875.s005
Acknowledgments
We would like to thank the information specialists at the Medical Research Library at University of Southern Denmark for help with the search strategy, Dr. Daanyaal Wasim for his suggestions during revision and the experts that responded to our request for additional literature.
View Article
Google Scholar
2. Kellett J. The Assessment and Interpretation of Vital Signs. In: DeVita MA, Hillman K, Bellomo R, Odell M, Jones DA, Winters BD, et al., editors. Textbook of Rapid Response Systems: Concept and Implementation. Cham: Springer International Publishing; 2017. p. 63–85.
PubMed/NCBI
30. Mao Y, Chen Y, Hackmann G, Chen M, Lu C, Kollef M, et al., editors. Medical Data Mining for Early Deterioration Warning in General Hospital Wards. 2011 IEEE 11th International Conference on Data Mining Workshops; 2011 11–11 Dec. 2011.
41. Cardona-Morrell M, Zimlichman E, Taenzer A. Continuous Monitoring for Early Detection of Deterioration on General Care Units. In: DeVita MA, Hillman K, Bellomo R, Odell M, Jones DA, Winters BD, et al., editors. Textbook of Rapid Response Systems: Concept and Implementation. Cham: Springer International Publishing; 2017. p. 277–87.

Chapter 6: Knowledge Integration
Case Study 1: Adult Client (continued)
1. What infection control measures should the healthcare provider implement? Use correct handwashing techniques before and after your assessment.
2. What method should be used to measure temperature for this adult client? Temperature is best taken using the tympanic or axillary route; because the client is nauseated, the oral route could stimulate the gag reflex.
3. What pulse and blood pressure readings should be taken for this adult client? Orthostatic vital signs (pulse and blood pressure) should be taken because this client is at risk for hypovolemia. The client may be dehydrated as a result of the vomiting and diarrhea and lack of fluid intake. Return to the chapter on blood pressure for more information on hypovolemia and its effects on vital signs.
Next, see and read the vital sign record below. On a piece of paper, write down each of the client's vital sign readings, and if applicable, the route used and the client's position.
Vital Sign Measurement Across the Lifespan - 1st Canadian edition by Ryerson University is licensed under a Creative Commons Attribution 4.0 International License , except where otherwise noted.
Want to create or adapt books like this? Learn more about how Pressbooks supports open publishing practices.
Jamaica Amurao, Kenny Dadacay and Josh Perez
Sean is a 21-year-old male who was admitted to the emergency department after being involved in a motor vehicle accident with his sister Anna. Anna was pronounced dead on scene and Sean suffered mild loss of consciousness. Upon arrival to the emergency department, Sean was confused and complained of left upper quadrant pain, which radiated to his left arm. During physical examination, Sean's vital signs were: BP 123/85 mmHg, HR 95 beats/min., RR 22 breaths/min, Temp, 98.6°F, and an Oxygen Saturation of 97%. Sean's orders included strict spinal immobilization protocols, EKG, IV fluid bolus, morphine and zofran, ultrasound (FAST), and a CT scan. After the CT scan, Sean lost consciousness and vital signs significantly changed from baseline. Sean's vital signs were: BP 93/56 mmHg, HR 132 beats/ min, RR 34 breaths/min. Temp, 95.6°F, and an Oxygen Saturation of 89%. The trauma team performed resuscitation interventions and then the patient was transferred to the operating room to treat the cause of bleeding. Sean was hemodynamically stabilized and transferred to the intensive care unit for further monitoring.
which patient characteristics indicate altered hemodynamic stability and why?
based on the signs/symptoms what organ might've been affected that led to the bleeding and why?
What is the role of case management in this scenario?
Nursing Case Studies by and for Student Nurses by jaimehannans is licensed under a Creative Commons Attribution-NonCommercial 4.0 International License , except where otherwise noted.
Share This Book

Want to create or adapt books like this? Learn more about how Pressbooks supports open publishing practices. -->
Chapter 6: Knowledge Integration
Case Study: Older Adult Client
Now review the documentation for Mr. Turner's blood pressure. Examine the following examples of documentation and choose the image that represents the correct way to document the findings. The results were:
1050 hrs: BP 160/94,  P 72 (right arm)
1058 hrs: BP 156/92,  P70 (right arm)
1100 hrs: BP 148/90,  P70 (left arm)
1105 hrs: BP 150/86,  P66 (right arm)
1107 hrs: BP 144/84,  P68 (right arm)
1109 hrs: BP 156/82,  P62 (right arm)
Vital Sign Measurement Across the Lifespan - 2nd Canadian Edition by Jennifer L. Lapum; Margaret Verkuyl; Wendy Garcia; Oona St-Amant; and Andy Tan is licensed under a Creative Commons Attribution 4.0 International License , except where otherwise noted.
Share This Book

In order to continue enjoying our site, we ask that you confirm your identity as a human. Thank you very much for your cooperation.
Remote wireless vital signs monitoring on the ward for early detection of deteriorating patients: A case series
Affiliations.
1 Department of Anaesthesiology, Amsterdam UMC, location AMC, H1-148, Amsterdam UMC, location AMC, P.O. Box 22660, 1100 DD Amsterdam, The Netherlands.
2 Leeds Institute of Medical Research at St. James's, University of Leeds, United Kingdom.
3 Emergency Department, University Hospital of Bichat, Paris, France.
4 Department of Surgery & Cancer, Academic Surgical Unit, St Mary's Hospital, Imperial College London, London, United Kingdom; Chelsea and Westminster Hospital NHS Foundation Trust, West Middlesex University Hospital, London, United Kingdom.
5 Department of Surgery & Cancer, Academic Surgical Unit, St Mary's Hospital, Imperial College London, London, United Kingdom.
6 Chelsea and Westminster Hospital NHS Foundation Trust, West Middlesex University Hospital, London, United Kingdom.
7 Chief Intensivist, King Edward VII Hospital, The London Clinic and University College London Hospitals NHS Trust, London, United Kingdom.
8 Department of Anaesthesiology, Amsterdam UMC, location AMC, H1-148, Amsterdam UMC, location AMC, P.O. Box 22660, 1100 DD Amsterdam, The Netherlands. Electronic address: [email protected].
PMID: 32105974
DOI: 10.1016/j.ijnurstu.2019.103515
Introduction: Remote wireless monitoring is a new technology that allows the continuous recording of ward patients' vital signs, supporting nurses by measuring vital signs frequently and accurately. A case series is presented to illustrate how these systems might contribute to improved patient surveillance.
Methods and results: Five hospitals in three European countries installed a remote wireless vital signs monitoring system on medical or surgical wards. Heart rate, respiratory rate and temperature were measured by the system every 2 min. Four cases of (paroxysmal) atrial fibrillation are presented, two cases of sepsis and one case each of pyrexia, cardiogenic pulmonary edema and pulmonary embolisms. All cases show that the remote monitoring system revealed the first signs of ventilatory and circulatory deterioration before a change in the trends of the respective values became obvious by manual vital signs measurement.
Discussion: This case series illustrates that a wireless remote vital signs monitoring system on medical and surgical wards has the potential to reduce time to detect deteriorating patients.
Keywords: Case series; Deteriorating patients; Patient safety; Remote wireless monitoring.
Copyright © 2020. Published by Elsevier Ltd.
Aged, 80 and over
Early Diagnosis
Middle Aged
Monitoring, Physiologic / methods
Remote Sensing Technology / methods*
Vital Signs / physiology*
Wearable Electronic Devices*
Grant support
DRF-2016-09-037/DH_/Department of Health/United Kingdom
Previous Article
Next Article
Description of Issue
Lessons learned, acknowledgments, case study : continuous monitoring of patient vital signs to reduce 'failure-to-rescue' events.
Split-Screen
Article contents
Figures & tables
Supplementary Data
Peer Review
Click here to open pdf in another window PDF for
Guest Access
Get Permissions
Cite Icon Cite
Search Site
Phyllis J. Miller; Case Study : Continuous Monitoring of Patient Vital Signs to Reduce 'Failure-to-Rescue' Events. Biomed Instrum Technol 1 January 2017; 51 (1): 41–45. doi: https://doi.org/10.2345/0899-8205-51.1.41
Download citation file:
Ris (Zotero)
Reference Manager
The Johns Hopkins Hospital is a nonprofit academic medical center in Baltimore, MD, and part of the Johns Hopkins University. Founded in 1889, it is a large global health enterprise that operates six academic and community hospitals, four suburban health-care and surgery centers, and 39 primary and specialty care outpatient sites. Zayed 11 East, the focal point of the initiative described here, is a 32-bed surgical unit that cares for patients with orthopedic/spine, trauma, general surgery, and neurological conditions and who receive opioids for pain management following surgical procedures.
Initiatives by The Joint Commission 1 and Department of Health & Human Services 2 have brought increased attention to the topic of monitoring of patients on opioids and galvanized hospitals, including Johns Hopkins Hospital, to pursue continuous vital sign monitoring programs. The hospital's philosophy is that "failure-to-rescue" events (i.e., when a patient dies from a medical complication that was not recognized in a timely manner or treated appropriately) and inhospital cardiac arrests should never occur.
In 2015, 40% of the sudden deaths at Johns Hopkins Hospital occurred on the Zayed 11 East unit. As a result, surveillance monitoring of vital signs was implemented for all patients on this unit. An earlier pilot that used a wired patient monitoring system received negative feedback, with patients expressing dissatisfaction with a system that they said was uncomfortable to wear. The device company from the first pilot did not offer an FDA-approved wireless product at the time of that selection, though it subsequently received FDA approval. This earlier system tethered them to the device with a cable, necessitating staff to to disconnect patients from monitoring when getting out of bed to go to the bathroom or for physical therapy. Patient complications were more likely to occur at that time but were not captured. For example, one patient experienced orthostatic hypertension when getting up for the first time postoperatively. Another patient experienced a burst of atrial fibrillation. In that case, it took some time to return the patient to bed, take vital signs, and reconnect them to the monitor to evaluate the rhythm.
A multidisciplinary team made up of clinical engineers, information technology (IT) staff, and medical as well as nursing clinicians guided the implementation of this initiative throughout both pilots. As the team looked to their second pilot, they chose a Food and Drug Administration (FDA)-approved wireless device (ViSi Mobile; Sotera Wireless, San Diego, CA). Then, the staff of Zayed 11 East implemented surveillance monitoring for all patients, which involved collecting patients' oxygenation level through pulse oximetry (SpO 2 ), continuous blood pressure, heart rate, respiratory rate, and temperature.
The continuous nature of the monitoring provides an ongoing picture of the patient's condition rather than typical monitoring by a staff member, which measures only episodically without the ability to trend data. As a result, some early deterioration signals can be missed as they occur between the times that the staff measures the patient's vital signs. The nursing staff was accustomed to escalating data about compromised patients to their provider team members, who would determine the interventions needed for the patient's care. The new monitoring process added additional elements to the care environment and introduced a new paradigm of care. With surveillance monitoring, expectations changed—the rapid-response team was activated when needed to provide early intervention and stop the deterioration of the patient.
As with any new initiative, the implementation team anticipated challenges with the development of new processes to support the initiative as well as initial resistance to the implementation of the new practices. They sought to educate the staff caring for the patients in as much detail as they could on the changing protocols for the surveillance monitoring of patients.
Of the 35 nursing staff of Zayed 11 East, 20 of them were new graduates in their first year of practice. These nurses were part of a nurse residency program and were included in the staffing mix for patients as this initiative was launched.
Developing critical thinking in new graduate nurses is especially profound, as during their first year of practice they are integrating academic lessons with the actual practice demands of caring for patients. Guided and intentional exchange of information along with discussions about the rationale for taking certain actions is critical to the development of the critical thinking skills needed for practice. Being able to ask questions about the rationale of the initiative also helped the new graduates assimilate the needed knowledge. The nurse residency program utilized the Casey-Fink Survey to measure the thoughts and feelings of new graduates about their practice. 3 For new graduates of Johns Hopkins Hospital, their top three concerns included a lack of confidence, fear of harming their patients, and an inability to handle the workload. This data was helpful as Sue Verrillo, MSN, RN, CRRN, nurse manager of the unit, developed specific strategies and resources to engage the new nurses in the monitoring process and address their concerns. In a conversation with Verrillo (May 2016), she stated that "this surveillance monitoring process is a new paradigm for them but it gives them continuous data regarding their patients. It gives them a starting point at the beginning of their shift and can then assist them to look at care needs of their patients for their shift."
As an example of developing critical thinking skills, a new nurse was assigned to a patient with a shoulder repair who had no cardiac history. A high heart rate alarm for 185 bpm sounded for the patient. The nurse recorded a radial pulse of 85 bpm and thought that the patient was fine. However, a vendor consultant questioned the nurse about the patient's clinical picture and asked if the nurse took an apical pulse. The nurse then determined from an apical pulse that the patient's heart rate actually was 185 bpm. The patient was transferred to the critical care unit and diagnosed with new onset spontaneous atrial fibrillation.
A debriefing reviewed the clinical reasons for the difference in radial and apical heart rates and the difference between what is perfused and not perfused because of the atrial fibrillation. During the debriefing, the new nurse was able to ask questions and gain a better understanding of the patient's clinical picture and to better analyze the care this patient would need. This process develops and advances the critical thinking skills of a nurse. In addition, the patient's early intervention enhanced support and credibility for the monitoring program. Some of the initial early resistance from the nursing staff abated. They began to see the potential of surveillance monitoring to save the lives of their patients.
Brad Winters, MD, the critical care anesthesiologist with overall responsibility for this quality improvement pilot, said in a conversation (May 2016) that culture must be taken into account when implementing surveillance monitoring. Protocols now directed that certain provider actions would be taken when nurses escalated patient information to physicians. The system of nurse escalation still encountered barriers when physicians did not respond in a timely manner. Physicians also did not know when—or were unwilling—to call for assistance. "You have to address this cultural reality in the unit. You will realize only minimal change unless care is turned on its head," Winters said.
The staff noted an increase in alarms and initially expressed concern that a large number of them were not actionable. A two-step delay was built into the system—first a delay from the patient to the monitor and then a delay before the alarm was sent to the nurse's phone. That gives the patient every opportunity to self-correct prior to the notification of the nurse. As the delays in notification took effect and the alarm parameters were adjusted, the number of non–clinically actionable or "false" alarms decreased. That resulted in less staff resistance. A 20% to 25% false alarm rate for the pilot was viewed as acceptable on the unit because of the high failure-to-rescue rate with which the unit began. The unit hopes to decrease it over time as the initiative moves forward.
Zayed 11 East experienced some challenges with patient admissions following the introduction of the surveillance monitoring. When the unit began this initiative, providers confused the surveillance monitoring with cardiac monitoring, resulting in inappropriate, high-acuity admissions to the unit. Nursing leadership addressed this issue by formally and informally communicating to providers that the unit's acuity level, staffing ratio, and scope of care were unchanged. The only change was the addition of surveillance vital sign monitoring for all patients, in order to determine if it would help detect earlier, subtle signs of deterioration.
When the unit began this initiative, providers confused the surveillance monitoring with cardiac monitoring, resulting in inappropriate, high-acuity admissions to the unit.
An additional challenge presented after patient discharge, when the patient room needed to be cleaned for the next patient. Environmental services staff often disposed of the cardiac cable, which was not a disposable item, after wiping down the monitoring unit. Reeducation failed to take hold due to a high turnover rate among environmental services staff. To prevent further loss of the cables, only staff members internal to the unit were permitted to clean them going forward.
The pilot anticipated that some patients might leave the hospital with their monitoring device after discharge. However, no units were lost during the pilot.
Infrastructure
The pilot faced several IT challenges. To be effective, common ground had to be found between the new wireless technology and the hospital's existing systems. IT staff had to resolve new security issues brought on by the technology, including the wireless transmission of PHI (protected health information). Wireless network bandwidth needed to be expanded and the interface with existing IT systems developed.
Middleware, which is a software that connects the original software to its applications, is responsible for notifying the nurse with potentially actionable data. IT staff had to evaluate whether or not the product worked with existing middleware and then develop an interface between the two so that alarm data could transmit to the nurses' phones.
Another consideration was how well patient data interfaced with the electronic health record (EHR), so that the monitoring data could be captured in the EHR. The hospital planned to implement a new EHR just months following the pilot. For this reason, they chose not to integrate monitoring data with the EHR for the pilot. This integration is planned with future initiatives once the new EHR is implemented.
The results of the pilot were still being analyzed at the time of publication for true versus false alarm rates, whether an intervention was associated with an alarm, whether certain populations alarm more than others, the number of events, the number of rapid-response calls, and the number of transfers to the critical care areas. However, certain anecdotal outcomes are noted. The results of the pilot are forthcoming.
During the 3-month pilot, surveillance monitoring identified:
Three cases of patients with pulmonary emboli. Early intervention likely saved them from further deterioration and possible loss of life.
Three cases of early-stage sepsis. Two of those patients were transferred to the critical care unit and one was able to be managed on the unit because of early intervention.
Three postoperative myocardial infarctions. Two of the patients were transferred to critical care, while one remained on the unit for care.
Two cases of atrial fibrillation. These were identified by the monitoring because of significant desaturation, and early intervention occurred.
Two spinal cord–injured patients were identified with autonomic dysreflexia (considered a medical emergency) as a result of malignant hypertension and early intervention prevented further deterioration.
The patients said they felt safer with the monitoring and that they knew someone was watching them and would act if something went wrong. They reported less anxiety, which could also have implications for rest and the need for pain medications.
The pilot measured the levels of nursing and patient satisfaction with this initiative. Patient surveys were distributed on the day of discharge and showed a 98% satisfaction rate with the program. The patients said they felt safer with the monitoring and that they knew someone was watching them and would act if something went wrong. They reported less anxiety, which could also have implications for rest and the need for pain medications. One patient said in the survey, "I think that Johns Hopkins is on the right track to lead in surveillance monitoring because it is the right thing to do for the patient." Another response demonstrates the technological savvy of patients. "I want you to work on a way to sync this data to my FitBit," said one patient in the survey. Although the suggestion may not be practical, it clearly indicates the patient expectations for technological solutions in today's care environment.
Nursing staff recorded a 70% to 75% satisfaction rate with the initiative. The reasons for this rating may include an increased workload for the nursing staff. The initiative requires a paradigm shift in the nurse's practice routine. Previously, technicians manually took vital signs every 4 hours, and the results were only reviewed by the nurse. With the pilot, nurses were responsible for reviewing more vital signs data, managing the monitoring, switching out the monitors when necessary, dealing with electrodes/leads that would be dislodged, as well as responding to alarms, so the workload appreciably increased. Nurses experienced a heightened practice expectation, as they were required to correlate the alarm and monitor data with the patient's physical assessment, and then look back to trend the monitor data to see any changes. Examples of such changes could include desaturation of the oxygen level with activity, an episode of ortho-static hypertension, uncontrolled pain that was leading to hypertension, or more serious events, such as beginning sepsis or determining that a workup was needed to rule out a pulmonary embolism.
The implementation team was happy with both the patient and the nurse satisfaction rates for the pilot. For the nursing results, they were particularly happy since the nursing staff is the group that experiences the most change to their practice with this initiative.
The next step for this initiative is to broaden its use into other nursing units. The medicine, neurology, and obstetrics units are among the first targets for future implementation. Surveillance monitoring data is intended to integrate with the EHR once the new EHR system is in place. Parameters for the frequency of uploading the data into the EHR will need to be determined so that meaningful data is captured and the system is not overloaded.
Staff are also developing a framework intended to eventually identify the data most useful to predict the deterioration of patients with certain conditions and suggest the needed interventions for them. Future plans include developing a standard of care for surveillance monitoring of patients. Such a standard of care is currently unavailable due to the novelty of this practice.
In looking at the results from their two pilot studies, both Winters and Verillo said they agree that a surveillance monitoring initiative is one that is feasible for hospitals to undertake and that the resulting alarm rates experienced in this project can be managed to an acceptable rate. With effective adaptive approaches, the necessary culture changes can be made to integrate the process into a unit's workflow. An example included sending programmed, regularly scheduled alerts to the nurses' phones. The alerts instructed nurses to change the batteries for the monitoring equipment at a preset time, as well as to check the patients' chest leads.
Education efforts showed staff step by step how the surveillance monitoring program affected their patients' conditions and prevented potentially life-threatening events. Examples included picking up on a pulmonary embolus prior to patient death, and catching autonomic dysreflexia prior to the patient suffering a stroke. Staff became convinced of the positive effect of the monitoring initiative once they could see the value of the early intervention for their patients. They now believe that this approach may eliminate or dramatically reduce failure-to-rescue events.
Having both clinical and executive leadership support and buy-in for the initiative, along with the clinical support of providers and the nursing staff, is essential to make such an initiative a reality. Continued and persistent support for the program by the implementation team, as well as responding to the necessary changes, was essential for bringing about the change in practice and solidifying it into the unit culture.
In addition to that support, the implementation team must maintain an integrated and cooperative structure, so all members are in sync with the initiative. This requires a considerable time investment in communication, the Johns Hopkins team said, but this is essential to the success of the project. Along the way to implementation, each decision must be vetted; nothing should be taken for granted because each decision carries implications for other processes. A commitment to team unity is important to ensuring that everyone stays on the same page as its composition changes due to turnover and different stages of the process.
Utilization of surveillance monitoring is one opportunity to improve patient care and demonstrate compliance with the National Patient Safety Goal for alarm management. It gives hospital staff an opportunity to fulfill commitment to improve patient outcomes by changing their organization's processes and policies. To be successful, the initiative must be multidisciplinary and have executive leadership support. Through the continuous quality improvement process, care for patients can be improved.
To Sue Verrillo, MSN, RN, CRRN, and Brad Winters, MD, for their time and willingness to share their expertise and experience and for furthering the efforts of surveillance monitoring of patients on opioids.
This article is a result of the efforts of the AAMI Foundation's National Coalition to Promote Continuous Monitoring of Patients on Opioids. The Foundation thanks the following industry partners for making this coalition possible: BD, Connexall, Hospira, Masimo, Medtronic, GE Healthcare, Mallinckrodt, Sotera, Early Sense, and Bernoulli.
About the Author
Phyllis J. Miller, MS, RN, FHCE, is an independent nursing consultant and at the time this article was written was assisting the AAMI Foundation with its patient safety initiatives. Email: [email protected]
Recipient(s) will receive an email with a link to 'Case Study: Continuous Monitoring of Patient Vital Signs to Reduce 'Failure-to-Rescue' Events' and will not need an account to access the content.
Subject: Case Study: Continuous Monitoring of Patient Vital Signs to Reduce 'Failure-to-Rescue' Events
(Optional message may have a maximum of 1000 characters.)
As of July 18th, 2022, BI&T has migrated to the AAMI Array platform at www.array.aami.org . If you are an institutional administrator, your account information has already been migrated to AAMI Array. The AAMI team is ready to help with your questions via email at [email protected] If you receive access to this journal via IP access through your institution's subscription, visit https://array.aami.org/toc/bmit/current to continue enjoying BI&T. Any questions? Email us at [email protected]
LOGIN FOR AAMI MEMBERS
AAMI members and journal subscribers have full access to BI&T.
LOGIN FOR ACCESS
Citing articles via
Get email alerts.
eISSN 1943-5967
ISSN 0899-8205
Privacy Policy
Get Adobe Acrobat Reader
This Feature Is Available To Subscribers Only
Sign In or Create an Account
Clinical Evidence
We're committed to providing information that helps solve your patient care challenges..
In this area, you'll find research articles, case studies, and clinician testimonials—all aimed at helping you make smarter buying decisions.
Don't see the information you need? Please use the contact form at the bottom of the page to request other information.
Blood Pressure
Cardiopulmonary
Lighting
Physical Assessment
Thermometry
Vital Signs
Women's Health
BLOOD PRESSURE
Blood Pressure Cuffs, Your Hospital, and the Environment Hospitals in the U.S. generate more than 7,000 tons of waste each day. Sustainable product design can help hospitals balance the need to control their environmental impact while helping to reduce the risk of cross-contamination with single-use devices. The Golisano Institute for Sustainability performed lifecycle analysis that highlights the advantages of the Welch Allyn FlexiPort ® EcoCuff™ over traditional blood pressure cuff styles. View Analysis »
Differences in Common Clinical Blood Pressure Measurement Technologies View Paper »
CARDIOPULMONARY
"Our clinicians are very pleased with the Welch Allyn PC-Based ECG in their team areas. They are now able to spend less time documenting and more time with their patients because of the seamless transfer of data from the device to our electronic patient record. Quality of care for our patients is improved by the clinician having instant access to prior tests for comparison. The portability and ease of use of this device makes our care teams more efficient and increases productivity."
Anchorage Neighborhood Health Center
Video Testimonial
Welch Allyn CardioPerfect ® Workstation
Sandra Negron, RN & Nurse Educator at Sixteenth Street Community Health Center, Milwaukee, WI, talks about the CardioPerfect Workstation, and its benefits for her patients and practice.
Case Studies
Bloomfield Internists Enjoys Comprehensive Blood Pressure Analysis with Welch Allyn ABPM View Case Study »
West Michigan Heart Improves Workflow, Billing Capture with Welch Allyn PC-Based Resting ECG View Case Study »
Welch Allyn Spot Vital Signs ® LXi and CardioPerfect ® Workstation Software Help Small Primary Care Practice Enhance Patient Care and Satisfaction View Case Study »
Welch Allyn Green Series™ 300 General Exam Light
Elizabeth Scott-Todd, Advanced Nurse Prescriber at Sixteenth Street Community Health Center, Milwaukee, WI, talks about the Green Series 300 General Exam Light, and its benefits for her patients and practice.
ROI Comparisons
Welch Allyn Green Series™ Medical Exam Lights These whiter, brighter, and greener lights pay for themselves.
ROI Comparison for Office-Based Usage View Comparison »
ROI Comparison for Hospital-Based Usage View Comparison »
PHYSICAL ASSESSMENT
Welch Allyn iExaminer™ System
Elizabeth Scott-Todd, Advanced Nurse Prescriber at Sixteenth Street Community Health Center, Milwaukee, WI, talks about the iExaminer System, and its benefits for her patients and practice.
Education and Research
Ophthalmic Case Reports
Eric Hussey, OD of Hussey Optometry in Spokane, WA has developed a series of case reports detailing how he detected signs of disease through ophthalmoscopy. Read On »
Diagnosis 101 Interactive Learning
Check out our on-line learning environment where you can step through patient exam videos and tutorials, review anatomy and pathologies of the eye and ear and listen to heart and lung sounds. Start Learning »
How to Use the Direct Ophthalmoscope
Dr. Taiwo Makanjuola reviews excerpts of his published paper How to Use the Direct Ophthalmoscope , including technique, filters and examples of disease states that can be detected through ophthalmoscopy. View Webinar »
Using Digital Fundus Photography in Primary Care
Dr. James Spangler, a practicing primary care optometrist, reports out on the importance of digital fundus photography as part of the patient exam. Listen to hiim share various disease states observed and captured through its use, including hypertensive retinopathy , glaucoma and macular degeneration . View Webinar »
Reviewing the Welch Allyn ® iExaminer™ System: Helping Make Kids Eye Exams Easier to Perform and Share
See how the use of the PanOptic™ Ophthalmoscope and iExaminer System through the iPhone ® helps make the capture of fundus images in pediatric patients easier for sharing and consultation. Dr. Jiaxi Ding and her colleague review their experience using this system to better view the fundus and identify early symptoms of retinal coloboma , optic nerve cupping and neonate retinopathy of prematurity . View Webinar »
Published Study
The MacroView™ Otoscope The MacroView Otoscope provides twice the field of view of standard otoscopes along with 30% greater magnification and improved illumination. - Contemporary Pediatrics , December 2004 View Study »
THERMOMETRY
Welch Allyn SureTemp ® Plus 690 Thermometer
Sandra Negron, RN & Nurse Educator at Sixteenth Street Community Health Center, Milwaukee, WI, talks about the SureTemp Plus 690 Thermometer and its benefits for her patients and practice.
Papers & Studies
Temporal Artery Thermometry Our experts have compiled a number of recent findings in published academic papers. We've also prepared a comparison of Welch Allyn thermometers to a typical temporal artery thermometer. View Paper »
Performance of Infrared Ear and Forehead Thermometers: A Comparative Study in 205 Febrile and Afebrile Children This Journal of Clinical Nursing study, published August 2012, compared readings from two professional-grade, commercially available infrared (IR) thermometers, the ThermoScan® PRO 4000 prewarmed tip ear thermometer and the Temporal Scanner™ TAT-5000 temporal artery thermometer. View Study »
Accuracy Study for the Welch Allyn Model 692/690 SureTemp® Plus Oral, Adult Axillary, and Rectal Thermometer View Study »
Accuracy Study for the Welch Allyn Model 692/690 SureTemp® Plus Pediatric Axillary Thermometer View Study »
VITAL SIGNS
In addition to the information compiled below, we have developed a webinar series that offers you the opportunity to learn about current trends in hospital care and engage with colleagues from around the globe. Featuring a broad array of topics around connectivity and increasing performance in healthcare environments, you are sure to find one or more that apply to your situation.
"Many of our nurses and CMAs find the portable Spot LXi Vital Signs instrument makes them more efficient as they can simultaneously be taking the patient vitals while entering demographic information into the electronic patient chart. Our clinical providers find the electronically taken information to be more accurate and enables them to provide better patient care than using manual instruments."
Vital Time Savings
Evaluating the Use of an Automated Vital Signs Documentation System on a Medical/Surgical Unit
This study published in the Journal of Healthcare Information Management , a HIMSS publication, compared the accuracy and time efficiency of manual-entry vital signs documentation with workflows that use a data management system to automatically transfer vital signs assessments from a bedside vital signs device into the electronic medical record. The study found that the automated vital signs documentation system was more accurate than manual documentation and errors were reduced by 75 percent. The wireless automated vital signs documentation system saved time compared to manual documentation, and combined vital signs acquisition/documentation times were reduced on average by 96 seconds per reading.
Standardizing Vital Signs Devices at Ottawa Hospital: A Strategy that Works for Patients and Nurses View Case Study »
Focusing on What's Vital: Automating Vitals to Improve Patient Care at Oshawa Clinic View Case Study »
Affordable Vital Signs Surveillance—Can You Afford Not to Monitor Your Patients? View Case Study »
Of Vital Importance—Transforming the Nursing Work Environment View Case Study »
Reaping the Rewards of Vital Signs Connectivity View Case Study »
Interfacing of Vital Signs Monitoring with the Electronic Medical Record View Case Study »
Connex ® Vitals Management Software Helps Meadville Medical Center Improve Patient Safety View Case Study »
Trinity Medical Center Achieves Its Vision of Efficient and Accurate Documentation with Connex ® View Case Study »
Automated Vital Signs Documentation for Medical/Surgical Units: Saving Time and Increasing Accuracy View Study »
Connected Spot-Check Devices Help Large Physician Group Enhance Patient Care, Improve Efficiency, Reduce Costs View Case Study »
Rice Memorial Hospital Improves Vital Signs Accuracy and Efficiency with Welch Allyn Connex ® EVD through Seamless Epic EMR Integration View Case Study »
Welch Allyn Spot Vital Signs ® LXi and CardioPerfect ® Workstation Software Help Small Primary Care Practice Enhance Patient Care and Satisfaction View Case Study »
WOMEN'S HEALTH
Welch Allyn KleenSpec ® Vaginal Specula and Cordless Illumination System
Elizabeth Scott-Todd, Advanced Nurse Prescriber at Sixteenth Street Community Health Center, Milwaukee, WI, talks about the KleenSpec Vaginal Specula and Cordless Illumination System, and its benefits for her patients and practice.
Request More Information
Thank you for your request. A Welch Allyn representative will contact you shortly.
We have received your request for more information. A Welch Allyn Representative will contact you shortly.
What is long covid? For the first time, a new study defines it.
The findings are expected to help standardize the definition of long covid and influence how the condition is diagnosed and studied.
More than 200 lingering symptoms have been reported in patients who suffer ongoing health problems after a covid infection. Now a new study has identified 12 key symptoms that best define the debilitating condition known as long covid.
The findings, published Thursday in JAMA , are based on 9,764 participants in a study called the RECOVER initiative , which stands for researching covid to enhance recovery, a four-year, $1.15 billion study of long covid funded by the National Institutes of Health.
The research is expected to help standardize the definition of long covid and have a significant impact on how the condition is diagnosed and studied, said Leora Horwitz, a physician and co-principal investigator for the RECOVER Clinical Science Core at NYU Langone Health.
"If you look up simple questions like 'how many people get long covid,' the answers are all over the place because people define it differently," Horwitz said. "To really advance the science, we need a common language."
An exercise trial for long covid is being criticized by some patients
In addition to identifying the key symptoms of long covid, the study used a point scoring system based on how likely the symptom was a true signal of long covid versus another condition.
For instance, when researchers analyzed patients' self-reported symptoms, they found that some symptoms were more common in people who had been infected with covid, but were less common in people who never had covid.
These included loss of taste or smell or post-exertional malaise, which is a worsening of symptoms following even minor physical or mental exertion. Other symptoms, such as brain fog or chest palpitations, were found to be common in long-covid patients, but were also common in other conditions, so those symptoms received fewer points.
The 12 symptoms of long covid
To meet the study's definition of long covid, a participant needed to score a total of 12 points once all their symptoms were added up. The 12 key symptoms and their corresponding scores are:
Loss of smell or taste: 8 points.
Post-exertional malaise: 7 points.
Chronic cough: 4 points.
Brain fog: 3 points.
Thirst: 3 points.
Heart palpitations: 2 points.
Chest pain: 2 points.
Fatigue: 1 point.
Dizziness: 1 point.
Gastrointestinal symptoms: 1 point.
Issues with sexual desire or capacity: 1 point.
Abnormal movements (including tremors, slowed movements, rigidity, or sudden, unintended and uncontrollable jerky movements): 1 point.
In general, the higher someone's score was, the worse their ability to carry out every day activities, said Tanayott Thaweethai, study lead author and researcher at Massachusetts General Hospital and Harvard Medical School. Higher symptom scores also correlated with a lower quality of life, he said.
"This offers a unifying framework for thinking about long covid, and it gives us a quantitative score we can use to understand whether people get better or worse over time," he said.
Evolving definition of long covid
Researchers cautioned that the findings are preliminary, and that it is too soon to use the symptom list and scoring system to diagnose long covid or determine eligibility for disability benefits.
Horwitz said she expects the definition of long covid will continue to evolve and get refined by researchers, but called this study a "huge first step" toward creating a standard definition. The next step is for researchers to validate the study results and compare them against lab tests and imaging.
Currently, the World Health Organization defines long covid as having any new symptoms three months after an initial covid infection, where the symptoms have lasted for at least two months with no other explanation. While the definition is inclusive and flexible, it doesn't clearly define long covid for researchers, Horwitz said.
Based on the 12 defining symptoms, the rate of long covid among different groups in the study ranged from 10 to 23 percent, depending on when they were infected and whether they had entered the study already having a diagnosis of long covid.
The high end of the range may be largely due to an over representation of people who had long covid before they enrolled in the study, said Andrea Foulkes, senior study author and principal investigator of the RECOVER Data Resource Core at Massachusetts General Hospital and Harvard Medical School.
Researchers say that they suspect the real world incidence of long covid is closer to about 10 percent of people who contract the illness, based on the rates seen in people who joined the trial within 30 days of contracting covid and who didn't yet know if they might develop long covid.
This study also found that long covid was more common in people who were unvaccinated and in people who had been infected with covid more than once.
Many more symptoms are possible
Some of the most distinguishing symptoms for long covid were not necessarily the most common, or the most debilitating, researchers said.
"There are many other symptoms that participants are experiencing above and beyond those 12 symptoms," Foulkes said.
For example, symptoms such as headaches and muscle aches are very common among long-covid patients, but are also not uncommon in people who have never had covid. Thirst and abnormal movements, such as tremors or seizures, are not common, even among people with long covid, she said, but the symptoms were significantly more present in people who have had covid versus people who never had the illness.
While some patients expressed concern that the 12-symptom list could exclude some long-covid patients, Nitza Rochez, 45, who lives in the Bronx, said she is grateful to finally have a definition.
"Personally I think that the list of symptoms is too small, but I understand that you have to start somewhere," she said. "At least it's more than what we've had in the last two years."
Rochez is a RECOVER study participant and has been coping with long covid since she was first infected in March 2020. In that time, she has experienced all of the 12 symptoms that researchers identified, but also has other symptoms that aren't on their list, like stuttering.
"Honestly it's a horrible experience, and I wouldn't want someone to go through it as blindly as I have been," she said. "Having a definition would have alleviated my anxiety so much because it would have a name as opposed to not knowing what's going on with my own body."
Marta Cerda, 61, of Chicago, said she is hopeful that having a clear definition for long covid can help reduce skepticism around the condition and make it easier for people to get diagnosed or get disability benefits.
Cerda, a RECOVER study participant, was first infected with covid in November 2020, but when she experienced strange symptoms after her infection, like stomach pain, she didn't initially realize that it could be connected to her covid infection.
"The closer we get to defining it, the closer we can get to educating physicians so that they can help us," she said.
A total body disease
In the study, researchers also attempted to cluster patients based on their symptom patterns to see whether long covid had distinct subgroups. Horwitz said that patients tended to have symptoms across multiple areas of their body, indicating that long covid was "likely a total body disease."
Thaweethai said the study further reinforces the idea that there are overlaps between long covid and other conditions that existed before the pandemic, such as an autonomic nervous system disorder called POTS, or postural orthostatic tachycardia syndrome and another condition called myalgic encephalomyelitis (ME/CFS) , also known as chronic fatigue syndrome.
In future studies, researchers plan to look at questions around whether long covid should be identified and defined differently in children and adolescents.
Sign up for the Well+Being newsletter, your source of expert advice and simple tips to help you live well every day
Read more from Well+Being
Well+Being shares news and advice for living well every day. Sign up for our newsletter to get tips directly in your inbox.
Across the life span, boys and men are more likely to die than girls and women.
SuperAgers have lessons for us about longevity, cognitive health as we age
Popular keto and paleo diets aren't helping your heart
Quiz: Are you an Ableist ?
Exercise leads to sharper thinking and a healthier brain.
Crossword Puzzle Maker
Word Search Maker
Create Account
This is the only sign-up step.
Update Password
Note: you need to update your password before you can be logged in..
Enter your problem or suggestion below. If you are not logged in and would like a response, please provide a valid email address.
ALERT: JavaScript is required to dispay or create lessons properly on The Lesson Builder. JavaScript is currently disabled on your browser.
What is javascript javascript is the computer language that web browsers like internet explorer, mozilla firefox, google chrome, and safari use to make changes to webpages based on what you click on, as well as allowing fancy animations. most websites use some amount of javascript to give you a better experience. the lesson builder uses javascript to display lessons in a format that allows you to easily customize them, to customize the structure of new lessons, to perform custom searches, to clean up lesson text, and to view reference material while creating a new lesson. new lessons cannot be created and existing lessons will only partially display if javascript is turned off. about 98% of web users have javascript enabled, and javascript is enabled on all current web browsers by default., how can i enable javascript it varies from browser to browser. look for an 'options', 'settings', or 'tools' selection on your browser, or perform a web search for how to do it for your specific browser., how can i know it's fixed when you think you have enabled javascript, refresh the page and this message should disappear. if you still see this message after refreshing the page, javascript is still disabled., alert: first party cookies are required to sign in to the lesson builder. first party cookies are currently disabled on your browser., what are cookies cookies are tiny pieces of information that your browser adds to a special folder on your computer to let certain websites recognize you as you move from page to page within the website, most commonly used to remember login or shopping cart info. the lesson builder uses a session cookie to remember you as you browse the website, so that new lessons you create are added to your library and so that your searches can differentiate between your lessons and other teachers' lessons. you can still view lessons without cookies enabled. a small percent of web users choose to disable cookies since some cookies (especially third-party cookies) are used by advertisers to track browsing behavior on other websites. the lesson builder doesn't do that., how can i enable first party cookies it varies from browser to browser. look for an 'options', 'settings', or 'tools' selection on your browser, or perform a web search for how to do it for your specific browser. you can choose to enable all cookies, enable only first party cookies, or add an exception to allow cookies from thelessonbuilder.org., how can i know it's fixed when you think you have enabled cookies for this site, refresh the page and this message should disappear. if you still see this message after refreshing the page, cookies are still disabled for this site..
Vital Signs Case Study

Global Climate Change Impact on Crops Expected Within 10 Years, NASA Study Finds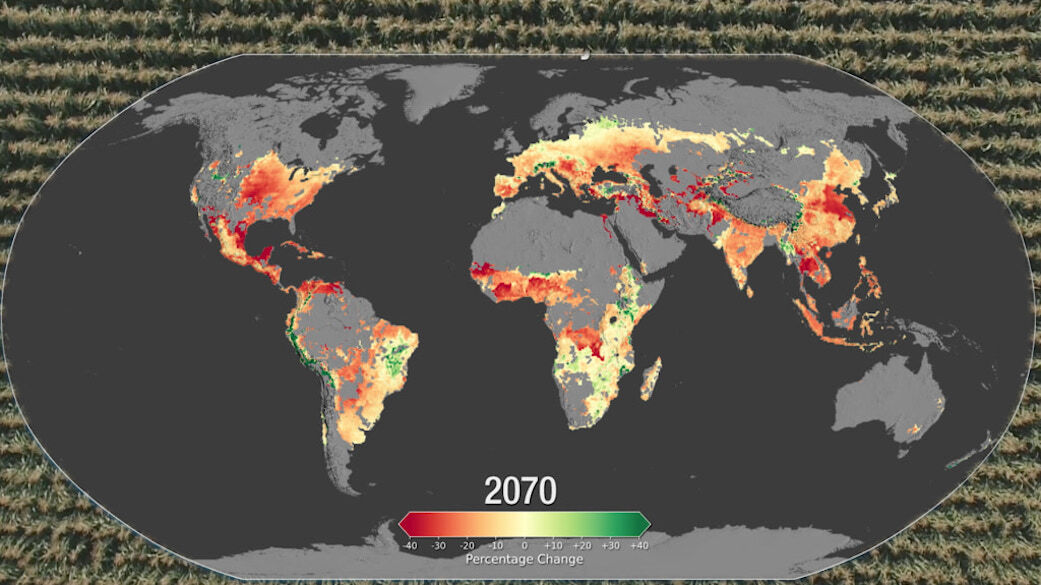 Map of the world showing in red where decreases in corn yields are projected to occur in 2071: parts of North america, South America, West Africa, Central Europe, India, China. Credit: NASA/Katy Mersmann
By Ellen Gray, NASA's Earth Science News Team
Climate change may affect the production of maize (corn) and wheat as early as 2030, according to a new NASA study.
Lee este anuncio de prensa en español aqui .
Climate change may affect the production of maize (corn) and wheat as early as 2030 under a high greenhouse gas emissions scenario, according to a new NASA study published in the journal, Nature Food . Maize crop yields are projected to decline 24%, while wheat could potentially see growth of about 17%.
Using advanced climate and agricultural models, scientists found that the change in yields is due to projected increases in temperature, shifts in rainfall patterns, and elevated surface carbon dioxide concentrations from human-caused greenhouse gas emissions. These changes would make it more difficult to grow maize in the tropics, but could expand wheat's growing range.
"We did not expect to see such a fundamental shift, as compared to crop yield projections from the previous generation of climate and crop models conducted in 2014," said lead author Jonas Jägermeyr, a crop modeler and climate scientist at NASA's Goddard Institute for Space Studies (GISS) and The Earth Institute at Columbia University in New York City. The projected maize response was surprisingly large and negative, he said. "A 20% decrease from current production levels could have severe implications worldwide."
To arrive at their projections, the research team used two sets of models. First, they used climate model simulations from the international Climate Model Intercomparison Project-Phase 6 ( CMIP6 ). Each of the five CMIP6 climate models used for this study runs its own unique response of Earth's atmosphere to greenhouse gas emission scenarios through 2100. These responses differ somewhat due to variations in their representations of the Earth's climate system.
Get NASA's Climate Change News: Subscribe to the Newsletter »
Then the research team used the climate model simulations as inputs for 12 state-of-the-art global crop models that are part of the Agricultural Model Intercomparison and Improvement Project ( AgMIP ), an international partnership coordinated by Columbia University. The crop models simulate on a large scale how crops grow and respond to environmental conditions such as temperature, rainfall and atmospheric carbon dioxide, which are provided by the climate models. Each crop species' behavior is based on their real life biological responses studied in indoor and outdoor lab experiments. In the end, the team created about 240 global climate-crop model simulations for each crop. By using multiple climate and crop models in various combinations, the researchers were more confident in their results.
"What we're doing is driving crop simulations that are effectively growing virtual crops day-by-day, powered by a supercomputer, and then looking at the year-by-year and decade-by-decade change in each location of the world," said Alex Ruane, co-director of the GISS Climate Impacts Group and a co-author of the study.
This study focused on climate change impacts. These models do not address economic incentives, changing farming practices, and adaptations such as breeding hardier crop varieties, although that is an area of active research . The research team plans to look at these angles in follow-up work, since these factors will also determine the fate of agricultural yields in the future as people respond to climate-driven changes.
The team looked at changes to long-term average crop yields and introduced a new estimate for when climate change impacts "emerge" as a discernable signal from the usual, historically known variability in crop yields. Soybean and rice projections showed a decline in some regions but at the global scale the different models still disagree on the overall impacts from climate change. For maize and wheat, the climate effect was much clearer, with most of the model results pointing in the same direction.
Maize, or corn, is grown all over the world, and large quantities are produced in countries nearer the equator. North and Central America, West Africa, Central Asia, Brazil, and China will potentially see their maize yields decline in the coming years and beyond as average temperatures rise across these breadbasket regions, putting more stress on the plants.
Wheat, which grows best in temperate climates, may see a broader area where it can be grown as temperatures rise, including the Northern United States and Canada, North China Plains, Central Asia, Southern Australia, and East Africa, but these gains may level off mid-century.
Temperature is not the only factor the models consider when simulating future crop yields. Higher levels of carbon dioxide in the atmosphere have a positive effect on photosynthesis and water retention, increasing crop yields, though often at a cost to nutrition. This effect happens more so for wheat than maize, which is more accurately captured in the current generation of models. Rising global temperatures also are linked with changes in rainfall patterns, and the frequency and duration of heat waves and droughts, which can affect crop health and productivity. Higher temperatures also affect the length of growing seasons and accelerate crop maturity.
"You can think of plants as collecting sunlight over the course of the growing season," said Ruane. "They're collecting that energy and then putting it into the plant and the grain. So, if you rush through your growth stages, by the end of the season, you just haven't collected as much energy." As a result, the plant produces less total grain than it would with a longer development period. "By growing faster, your yield actually goes down."
"Even under optimistic climate change scenarios, where societies enact ambitious efforts to limit global temperature rise, global agriculture is facing a new climate reality," Jägermeyr said. "And with the interconnectedness of the global food system, impacts in even one region's breadbasket will be felt worldwide."
Related Stories

Entertainment
Newsletters
KSAT Insider
As rising oceans threaten NYC, study documents another risk: The city is sinking
Bobby Caina Calvan
Associated Press
Copyright 2022 The Associated Press. All rights reserved.
FILE A man checks his footing as he wades through the Morris Canal Outlet in Jersey City, N.J., as the sun sets on the lower Manhattan skyline of New York City, May 31, 2022. If rising oceans aren't worry enough, add this to the risks New York City faces: The metropolis is sinking under the weight of its skyscrapers, apartment buildings, asphalt and humanity itself and will eventually become flooded by the Hudson River and Atlantic Ocean. (AP Photo/J. David Ake, File)
NEW YORK – If rising oceans aren't worry enough, add this to the risks New York City faces: The metropolis is slowly sinking under the weight of its skyscrapers, homes, asphalt and humanity itself.
New research estimates the city's landmass is sinking at an average rate of 1 to 2 millimeters per year, something referred to as "subsidence."
That natural process happens everywhere as ground is compressed, but the study published this month in the journal Earth's Future sought to estimate how the massive weight of the city itself is hurrying things along.
More than 1 million buildings are spread across the city's five boroughs. The research team calculated that all those structures add up to about 1.7 trillion tons (1.5 trillion metric tons) of concrete, metal and glass — about the mass of 4,700 Empire State buildings — pressing down on the Earth.
The rate of compression varies throughout the city. Midtown Manhattan's skyscrapers are largely built on rock, which compresses very little, while some parts of Brooklyn, Queens and downtown Manhattan are on looser soil and sinking faster, the study revealed.
While the process is slow, lead researcher Tom Parsons of the U.S. Geological Survey said parts of the city will eventually be under water.
"It's inevitable. The ground is going down, and the water's coming up. At some point, those two levels will meet," said Parsons, whose job is to forecast hazardous events from earthquakes and tsunamis to incremental shifts of the ground below us.
But no need to invest in life preservers just yet, Parsons assured.
The study merely notes buildings themselves are contributing, albeit incrementally, to the shifting landscape, he said. Parsons and his team of researchers reached their conclusions using satellite imaging, data modeling and a lot of mathematical assumptions.
It will take hundreds of years — precisely when is unclear — before New York becomes America's version of Venice, which is famously sinking into the Adriatic Sea.
But parts of the city are more at risk.
"There's a lot of weight there, a lot of people there," Parsons said, referring specifically to Manhattan. "The average elevation in the southern part of the island is only 1 or 2 meters (3.2 or 6.5 feet) above sea level — it is very close to the waterline, and so it is a deep concern."
Because the ocean is rising at a similar rate as the land is sinking, the Earth's changing climate could accelerate the timeline for parts of the city to disappear under water.
"It doesn't mean that we should stop building buildings. It doesn't mean that the buildings are themselves the sole cause of this. There are a lot of factors," Parsons said. "The purpose was to point this out in advance before it becomes a bigger problem."
Already, New York City is at risk of flooding because of massive storms that can cause the ocean to swell inland or inundate neighborhoods with torrential rain.
The resulting flooding could have destructive and deadly consequences, as demonstrated by Superstorm Sandy a decade ago and the still-potent remnants of Hurricane Ida two years ago.
"From a scientific perspective, this is an important study," said Andrew Kruczkiewicz, a senior researcher at Columbia University's Climate School, who was not involved in the research.
Its findings could help inform policy makers as they draft ongoing plans to combat, or at least forestall, the rising tides.
"We can't sit around and wait for a critical threshold of sea level rise to occur," he said, "because waiting could mean we would be missing out on taking anticipatory action and preparedness measures."
New Yorkers such as Tracy Miles can be incredulous at first.
"I think it's a made-up story," Miles said. He thought again while looking at sailboats bobbing in the water edging downtown Manhattan. "We do have an excessive amount of skyscrapers, apartment buildings, corporate offices and retail spaces."
New York City isn't the only place sinking. San Francisco also is putting considerable pressure on the ground and the region's active earthquake faults. In Indonesia, the government is preparing for a possible retreat from Jakarta, which is sinking into the Java Sea, for a new capital being constructed on the higher ground of an entirely different island.
Copyright 2023 The Associated Press. All rights reserved. This material may not be published, broadcast, rewritten or redistributed without permission.
Variety Print Plus Subscriber
'Perfect Days' Review: Wim Wenders' Gentle Japanese Character Study is His Best Narrative Film in Decades
After a long run of off-the-boil fiction features, the German veteran hits the sweet spot with this simple, touching ode to working routine and everyday human connection.
By Guy Lodge
Film Critic
'La Chimera' Review: Josh O'Connor Is a Grave Robber Seeking More Elusive Treasure in Alice Rohrwacher's Enchanting New Film 3 days ago
'Perfect Days' Review: Wim Wenders' Gentle Japanese Character Study is His Best Narrative Film in Decades 4 days ago
'Inside the Yellow Cocoon Shell' Review: A Spiritual Wander Through Rural Vietnam Makes For a Transfixing Debut 4 days ago
"Perfect Days" finds its maker in bracing, uncomplicated form: It hasn't the ecstatic spiritualist philosophy of "Wings of Desire" or the penetrating poetry of human and cultural desolation that marked "Paris, Texas." But the new film's humane, hopeful embrace of everyday blessings is enough to make it Wenders' freshest, most rewarding and arthouse-friendly fiction feature in close on 30 years — following a 21st-century run of dusty or disheveled works dwarfed by the artistry and elan of his recent documentary work. As it happens, "Perfect Days" bows in Cannes mere days after the director's dazzling 3D art doc "Anselm." Rather than one showing the other up, both pleasingly demonstrate the range of forms, scales and tones in which the 77-year-old filmmaker can still work.
Indeed, there's something of a documentarian's eye to the film's patient examination of process and routine, as it follows Hirayama on his daily rounds with minimal fuss or incident. Beginning with the first blush of orangey morning light on his sleeping mat — captured by DP Franz Lustig as a slice of mimosa-bright intensity amid the drear — we observe as the sixtysomething man folds up his bedding, brushes his teeth, dresses, waters his collection of potted sapling trees, and hops into a small van filled with all his cleaning materials. He picks a cassette tape from the many stashed above the windscreen, and putters along the highways of Tokyo to the jangling strains of The Animals' "House of the Rising Sun." Again, his musical selections don't shy from the literal.
If he minds his job, however, it doesn't show on his creased, still keen-eyed face. He appears to take pleasure in its methodical regularity, just as he enjoys his daily lunch breaks in the same outdoor spot — where he photographs the same trees and smiles at the same strangers — and his daily post-work drink at the same busy commuter bar. When one day is complete, Wenders takes us through the schedule all over again; weekends, with bicycle trips to the laundromat, the bookshop and a hole-in-the-wall restaurant run by cheerfully nurturing Mama (Sayuri Ishikawa), are different but just as contentedly regimented.
The variations come in the cultural fabric of Hirayama's leisure time: the books he reads (Patricia Highsmith one day, William Faulkner another) and the music that he picks from his large collection of classic rock and soul — Patti Smith, Otis Redding, Van Morrison, Nina Simone — all on cassette. (His is a stubbornly analog existence, to the amusement of his juniors.) But when Niko (Arisa Nakano), the teenage daughter of his estranged sister Keiko (Yumi Aso), turns up unannounced on his doorstep and decides to stay a few days, the ensuing disruptions to his routine also expose what a deliberate construction that routine is in the first place: a defense against a past life he doesn't want back.
We're left to intuit much of this through the small sighs and pauses in Yakusho's graceful performance, with his unhurried but purposeful gait, and his taciturn but open-faced demeanor. He and his director alike resist condescending to the character as they etch in the tightly managed confines of his existence. Monochrome dream sequences by Wenders' wife Donata — drawing on the Japanese concept of komerebi , or the play of light in trees — allude to Hirayama's equally peaceful but poetically-inclined inner life.
Such touches can border on the corny. The theme of seeking beauty in the mundane — well served by Lustig's boxily framed but expansively lit tableaux of urban development and domestic space — is at no risk of understatement. But here and there, "Perfect Days" startles with flourishes of more stoic lyricism and disciplined emotional torment: A later surprise family reunion is heart-rending in its brief, unspoken flash of shared anguish, while a charged encounter with a stranger culminates in a literal shadow-dance of unbidden, childlike playfulness. This beguiling film may trade in the tranquil security of routine, but makes an occasional, heart-quickening case for the unexpected.
Reviewed at Soho Screening Rooms, London, May 11, 2023. (In Cannes Film Festival — Competition.) Running time: 124 MIN.
Production: (Japan) A Master Mind Ltd., Spoon Inc., Wenders Images GbR production. (World sales: The Match Factory, Cologne.) Producers: Wim Wenders, Takuma Takasaki. Executive producer: Koji Yakusho. Co-producers: Reiko Kunieda, Keiko Tominaga, Kota Yabana, Yasushi Okuwa.
Crew: Director: Wim Wenders. Screenplay: Wenders, Takuma Takasaki. Camera: Franz Lustig. Editor: Toni Froschhammer.
With: Koji Yakusho, Tokio Emoto, Arisa Nakano, Aoi Yamada, Yumi Aso, Sayuri Ishikawa, Tomokazu Miura as Tomoyama, Min Tanaka. (Japanese dialogue)
More From Our Brands
'barry' finale is filled with blood and disappointment, sonus faber's new edition of its iconic stradivari loudspeaker is an instant classic, leeds and leicester out after premier league relegation losses, step up your bodyweight workouts with a weight vest, somebody somewhere season 2 finale: bridget everett details sam's season-ending 'emotional avalanche', verify it's you, please log in.