Paraphrasing and Summarizing Exercises with Answers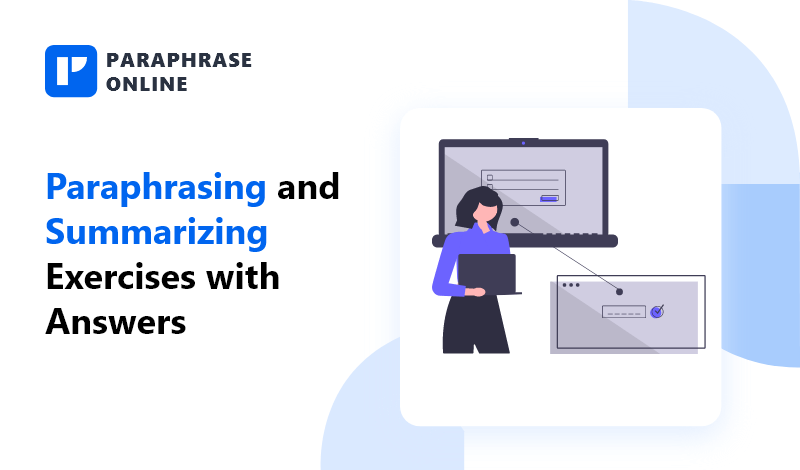 Paraphrasing and Summarizing are two skills that are highly useful for writers. With these two techniques, writers can get help creating their content and providing it to their readers in an easy-to-peruse way.
However, if you happen to be new to the field of writing, you could be a little unaware and untrained in both these skills. But don't worry. Everyone starts out as a beginner.
In this post, we're going to be looking at some paraphrasing and summarizing exercises along with their answers and explanations. By following along, you'll get a good idea about how you can use these techniques in your own capacity.
Let's begin!
What is Paraphrasing and Summarizing?
Before we get to the exercises, let's digress a little and understand what paraphrasing and summarization actually are.
Let's start with paraphrasing.
Paraphrasing is the process in which a particular piece of content is reworded and rephrased in such a way that it looks different from its original version but it has the same meaning and context.
A simple example of paraphrasing would be to change "John likes his cat" to "John adores his feline pet". Paraphrasing can be as slight as merely changing some words in the text, or it can be as drastic as fully changing the tone, structure, order, and words of the content.
On the other hand, Summarizing is the process in which a piece of content is shrunk and shortened to about one-tenth of its original size. In this shortened version, the main idea and concept of the content is provided.
Summarization is usually used by authors and writers when they want to give a brief outline of a book or article to their readers.
Now that we've looked at the definitions of both, let's move ahead to look at some exercises.
Paraphrasing Exercises (with Answers)
The main purpose of providing these exercises along with their answers is to help you understand what these techniques look like when they are implemented. Since we have explained their core definition above, you can try and work along the exercises to improve your skills a little as well.
Related: Difference Between Paraphrasing And Rephrasing
Paraphrasing Exercise # 1:
Here is a sample paragraph that we will be paraphrasing as an exercise. We'll write the paragraph alone first, and then provide the answer after a brief explanation.
Sample Paragraph:
" John could not find the butter in his fridge. He went to buy some from the store. On coming back, he saw his cat sitting on the floor, smacking its lips. There was some yellow stuff smeared all around its face. Thus, John solved the mystery of the missing butter."
So, as we mentioned earlier, paraphrasing can be done simply and sparingly, or it can be done drastically.
One of the primary and basic ways of paraphrasing is to simply change some words in the provided content with their synonyms. This is, we reiterate, a very basic level of paraphrasing, and it is often very easy to see through it.
So, for this first exercise, we are going to be doing only that level of paraphrasing as a way to illustrate how it looks like.
Here is what the above paragraph looks like when paraphrased:
Paraphrased Paragraph:
"John could not locate the butter in the refrigerator. He went to purchase some from the shop. On coming back, he observed his cat sitting on the ground, licking its lips. There was some yellow material smeared all around its face. Hence, John solved the mystery of the missing butter."
While we are on this discussion, it will also be salubrious to understand that when changing words with their synonyms for the purpose of paraphrasing, you have to be careful that you pick those that don't mess up the context and intent of the lines.
Paraphrasing Exercise # 2:
Moving on, let's look at another paraphrasing exercise. Here is the paragraph that we will be using for this one:
"John's cat got lost in the forest. He went looking for it in the night time. He heard some movement in one of the bushes. He put his hand in and felt the fur. He pulled the thing out, thinking it to be his cat. After coming home, he realized it was an angry raccoon."
We mentioned in the last exercise that the basic level of paraphrasing is to change some of the words in the given text with their synonyms. And we also mentioned how that sort of paraphrasing can be easily detected.
So, for writers who want to paraphrase something in such a way that it does not resemble its original form a lot, there's a step further that they can go, and that is to change the sentence structures + phrases.
Essentially, by changing the phrases used in the content as well as the arrangement of the sentences, the overall look of the paraphrased piece looks very different. If someone wants to go even ahead of that, they can shuffle the sentence order as well.
Considering this type of 'extensive' paraphrasing, here is the answer to the paragraph given above:
"John's cat went missing in the forest. He went to search for it when it was dark. He discerned some movement in the hedge. After putting his hand inside it, he felt some fur. Thinking that it was his cat, he pulled the animal out. It was only after coming home that he realized that it was a frustrated raccoon."
Summarizing Exercises (with Answers)
Now that we have looked at the paraphrasing exercises, let's move on to look at some for summarizing.
Just as we've looked at two types of paraphrasing above, we'll also look at two different types of summarizing.
Actually, it'll be better if we explain those two types before getting to the exercises.
Basically, there are two types of summaries . One of them is called extractive and the other is called abstractive .
In extractive summarization, the summary of a piece of content is generated merely by taking out some sentences from it and joining them together. This is usually the type of summaries that you get from automated tools.
When extractive summaries are created, there is no effort to understand the actual meaning and context of the text. Rather, the purpose is only to take some lines from it and join them together in such a way that they make sense.
On the other hand, abstractive summaries are those that are written using a completely new and different set of words, phrases and sentences than the content (that is being summarized). As opposed to extractive summarization, abstractive summarization involves understanding the meaning and context of the text, and then creating a completely new summary that features all those concepts and ideas.
Summarizing Exercise # 1 (Extractive)
In order to demonstrate and explain extractive summarization, we're going to first write a paragraph here and then provide its summary afterwards:
Sample paragraph:
"John's car broke down. He stopped by the road side and screamed at people to stop and help him. But no one stopped for him. He continued howling and howling for hours. People kept driving by. After getting tired, he picked up a sheet and wrapped it around himself. Then, he started spinning on his spot. He grew dizzy. He kept spinning and spinning until he fell asleep."
Now, since we have to use the "extractive" summarization technique here, we'll create the summary using the lines and sentences used in the content itself.
"John's car broke down. But no one stopped for him. Then, he started spinning on the spot. He kept spinning and spinning until he fell asleep."
Summarizing Exercise # 2 (Abstractive)
For this exercise, we will use the same para that we did above. However, the technique used for the summarization will be different.
Since we will be using the abstractive technique here, the summary will be created using different words and phrases as the original.
"John's vehicle went phut. But, no one stopped their car to help him. After he was tired, he made himself dizzy by spinning and then went to sleep."
So, that's about it.
If you were a little confused about paraphrasing and summarization techniques, hopefully you're a little more confident about them now.
These skills can come in handy for writers in a lot of different situations. If you don't have the hang of them already, you should try and get it as quick as you can.

PET paraphrasing
Purdue Online Writing Lab Purdue OWL® College of Liberal Arts
Paraphrase: Write It in Your Own Words

Welcome to the Purdue OWL
This page is brought to you by the OWL at Purdue University. When printing this page, you must include the entire legal notice.
Copyright ©1995-2018 by The Writing Lab & The OWL at Purdue and Purdue University. All rights reserved. This material may not be published, reproduced, broadcast, rewritten, or redistributed without permission. Use of this site constitutes acceptance of our terms and conditions of fair use.
This handout is intended to help you become more comfortable with the uses of and distinctions among quotations, paraphrases, and summaries. This handout compares and contrasts the three terms, gives some pointers, and includes a short excerpt that you can use to practice these skills.
Paraphrasing is one way to use a text in your own writing without directly quoting source material. Anytime you are taking information from a source that is not your own, you need to specify where you got that information.
A paraphrase is...
Your own rendition of essential information and ideas expressed by someone else, presented in a new form.
One legitimate way (when accompanied by accurate documentation) to borrow from a source.
A more detailed restatement than a summary, which focuses concisely on a single main idea.
Paraphrasing is a valuable skill because...
It is better than quoting information from an undistinguished passage.
It helps you control the temptation to quote too much.
The mental process required for successful paraphrasing helps you to grasp the full meaning of the original.
6 Steps to Effective Paraphrasing
Reread the original passage until you understand its full meaning.
Set the original aside, and write your paraphrase on a note card.
Jot down a few words below your paraphrase to remind you later how you envision using this material. At the top of the note card, write a key word or phrase to indicate the subject of your paraphrase.
Check your rendition with the original to make sure that your version accurately expresses all the essential information in a new form.
Use quotation marks to identify any unique term or phraseology you have borrowed exactly from the source.
Record the source (including the page) on your note card so that you can credit it easily if you decide to incorporate the material into your paper.
Some examples to compare
Note that the examples in this section use MLA style for in-text citation.
The original passage:
Students frequently overuse direct quotation in taking notes, and as a result they overuse quotations in the final [research] paper. Probably only about 10% of your final manuscript should appear as directly quoted matter. Therefore, you should strive to limit the amount of exact transcribing of source materials while taking notes. Lester, James D. Writing Research Papers . 2nd ed., 1976, pp. 46-47.
A legitimate paraphrase:
In research papers, students often quote excessively, failing to keep quoted material down to a desirable level. Since the problem usually originates during note taking, it is essential to minimize the material recorded verbatim (Lester 46-47).
An acceptable summary:
Students should take just a few notes in direct quotation from sources to help minimize the amount of quoted material in a research paper (Lester 46-47).
A plagiarized version:
Students often use too many direct quotations when they take notes, resulting in too many of them in the final research paper. In fact, probably only about 10% of the final copy should consist of directly quoted material. So it is important to limit the amount of source material copied while taking notes.
A note about plagiarism: This example has been classed as plagiarism, in part, because of its failure to deploy any citation. Plagiarism is a serious offense in the academic world. However, we acknowledge that plagiarism is a difficult term to define; that its definition may be contextually sensitive; and that not all instances of plagiarism are created equal—that is, there are varying "degrees of egregiousness" for different cases of plagiarism.
Professional development
Knowing the subject
Teaching Knowledge database N-P
Paraphrasing
See an explanation of the term 'Paraphrasing'.
Paraphrasing is finding another way to say something when you don't know how to say it. Paraphrasing is not only an essential skill for all speakers but also key to learners developing communicative ability beyond their existing knowledge of language.
Example The learner is describing a photograph of a glider and doesn't know the word, so paraphrases by saying 'an airplane that uses the wind'.
In the classroom One way to practise paraphrasing is through word games. For example, in a definition game learners have to provide paraphrases, so that others can guess the original word. This can be done in written form in crossword activities as well.
Further links: https://www.teachingenglish.org.uk/article/heroes-villains-pride-prejudice-0 https://www.teachingenglish.org.uk/article/windrush-generation https://www.teachingenglish.org.uk/article/green-great https://www.teachingenglish.org.uk/article/creativity-language-classroom  
Research and insight
Browse fascinating case studies, research papers, publications and books by researchers and ELT experts from around the world.
See our publications, research and insight